31 March, 2012
Salamanca Markets
Hobart, Tasmania

As part of SAC35 Big Weekend, the 35th Anniversary celebrations for the Salamanca Arts Centre, Elizabeth Woods was commissioned to create four satirical market stalls at Hobart's iconic Salamanca Markets.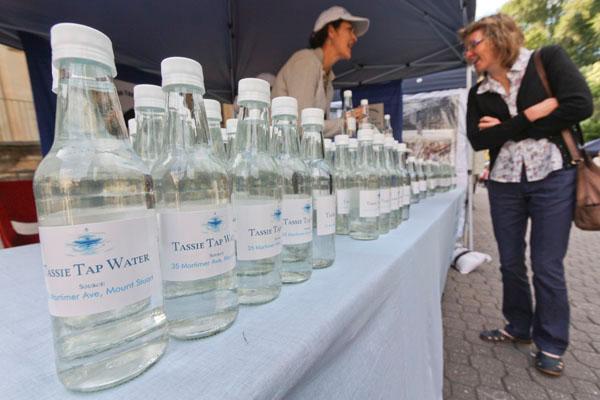 Two of the stalls offered an experience of virtual travel: at the Tassie Tap Water stall, market-goers could ponder on subtle differences when tasting from a boutique range of tap waters, bottled from a selection of public and private locations around the state of Tasmania. Those less inclined towards nuance could smell and touch soils from six distinct Tasmanian regions while marvelling at the rich span of hues; $2.00 souvenir bags of regional soil could then be purchased at the aptly-named, Dirt Cheap stall.
Not forgetting the market's role as a new-age departure lounge, the Spirit Levelling & Aura Cleansing stall performed mystical, hands-on healing rituals with a unique kitchen-cupboard sensibility, and responding to a common local complaint of the market, the Useless Items stall presented a collection of perplexing objects that, either by the artist's design or careful selection, were utterly lacking in any functional potential.
The SAC35 Big Weekend was curated by Martyn Coutts, Ian Pidd and Sam Routledge.