5 - 19 July, 2009
Château de La Motte-Tilly,
Champagne-Ardenne, France
In 2007, the Elizabeth Woods visited the Château de La Motte-Tilly. She was struck as much by the expansive, convivial and sumptuous charm of the architecture and grounds as by its tragic past, especially in the lives of its last owner, Aliette de Rohan-Chabot, the Marquise de Maillé who, heirless after the death of her only daughter, bequeathed the château to the French people on the intriguing condition that "the château is not inhabited, but only visited... and remains furnished as it [was at the time of her death], so the visitor beyond mere curiosity, would feel a presence."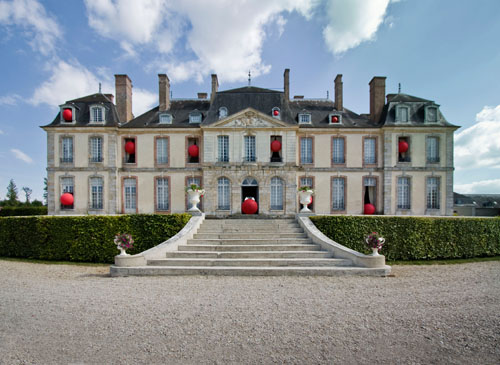 Two years later, by invitation of the Centre des Monuments Nationaux and the Centre d'Art Marnay Art Centre (CAMAC), Ms. Woods returned with her collaborator, Kevin Leong, to create installations in the château and gardens, that establish a dialogue with the beauty and history of the home and its inhabitants. The installations intervene in the sombre reverence of the museological setting with childlike delight and mischief, creating rifts that prompt consideration on the complex, irresolute relationships between the historical and the contemporary, between the archive and the everyday, between conservation and the objects of beauty and between discontent and the objects of longing.
The history, people and daily routines of the Château de La Motte-Tilly was also the subject of an exhibition of video and photographic work at the Carnegie Gallery, Hobart in 2011.
The catalogue for both events is available here.
This project has been assisted by the Australian Government through the Australia Council, its arts funding and advisory body, and through the generous support of Centre des Monuments Nationaux and Fondation Tenot (CAMAC), as well as the château's guides and caretakers.