August 2012
Long Gallery, Salamanca Arts Centre
Hobart, Tasmania

Where do you belong in the world?
Can this be predicted by your cultural background?
If not, how can you find your way home?
This device may help you.
Born to second-generation Southern Chinese immigrants in Malaysia, and himself a first-generation migrant to Australia, Kevin Leong is at the end of a line in cultural orthodoxy: without the distinction of language, physical appearance or cultural knowledge, the next generation of his family will only have their names as mementoes of their heritage. He is a one of the Chinese diasporic group termed re-migrant by Wang Gungwu – a group of typically Western-educated, middle-class migrants, mainly to South-East Asian countries, that have re-migrated to affluent Western nations. The economic and ideological independence of this group has given members a choice over the degree to which their historical cultural identity is retained, but this choice often results in a strong sense of cultural ambiguity.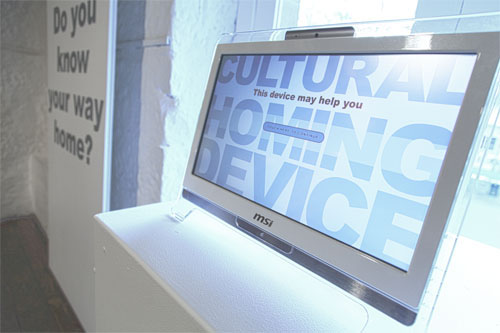 In the wake of this indeterminacy, and at a time when ways of life are seldom accurately deduced from ancestry, Cultural Homing Device is a computer application which offers assistance to the culturally-disoriented. The application collects a user's cultural profile by asking a series of questions and then, by comparing the collected data against profiles from eighty-nine countries*, it produces a map of the world showing regions of close cultural alignment. In this non-historical age of translucent political, cultural and economic borders, the application helps intergenerational global travellers in their search for a way home.
* Derived from data collected in the World Values Survey.
Cultural Homing Device was commissioned by the Salamanca Arts Centre for Made in China, Australia, a touring survey exhibition of Australian-Chinese artists curated by Greg Leong.
The exhibition tour itinerary is below and the catalogue is available here.
| | | | |
| --- | --- | --- | --- |
|   | Long Gallery, Salamanca Arts Centre, Hobart |   | 1 Aug - 5 Sep 2012 |
|   | Burnie Regional Gallery, Tasmania |   | 1 Feb - 1 Mar 2013 |
|   | McClelland Gallery and Sculpture Park, Langwarrin, Victoria |   | 17 Mar - 9 Jun 2013 |
|   | Lake Macquarie City Art Gallery, New South Wales |   | 21 Jun - 28 Jul 2013 |
|   | OzAsia Festival, Adelaide Festival Centre, South Australia |   | 26 Aug - 22 Oct 2013 |
|   | Ararat Regional Art Gallery, Victoria |   | 27 Mar - 18 May 2014 |
|   | Kickarts Contemporary Arts, Cairns, Queensland |   | Jun - Jul 2014 |
|   | Artspace Mackay, Queensland |   | 5 Sep - 18 Oct 2014 |
|   | Grafton Regional Gallery, New South Wales |   | 10 Dec 2014 - 1 Feb 2015 |
|   | Queen Victoria Museum and Art Gallery, Launceston, Tasmania |   | 21 Feb - 3 May 2015 |